The crew of my grey character weasel corsair captain Zemmerug Zitspike will be listed here. (he is an Rp and Fanfic char). The ship is called the Midnight Fury. These corsairs are rivals with Gnarlspike the fox's gang of foxes, however, Gnarlspike trusts foxes, and only foxes. Zitspike distrusts weasels, thinking them to be the cleverest of all vermin. His crew consists of stoats, ferrets, and searats. He hates foxes, because he hates Gnarlspike. He accused the fox of "stealing his name".
This is the full crew, diceased characters will be included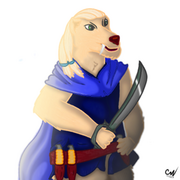 Beasts in authority
Zemmerug Zitspike (captain)
Blugsnutt (deceased first mate)
Dagg (deceased mate)
Whitepaw (current mate, former bosun)
Deddclaw (second mate)
Crew
Baggs (deceased bosun)
Waggy (current bosun)
Hogtoe (current cook)
Kubber (steersferret)
Stukkworm
Sourback (deceased rat)
Skullug (deceased cook)
Sliptooth (deceased ferret)
Brownback (deceased rat)
Ad blocker interference detected!
Wikia is a free-to-use site that makes money from advertising. We have a modified experience for viewers using ad blockers

Wikia is not accessible if you've made further modifications. Remove the custom ad blocker rule(s) and the page will load as expected.