There are quite a few art contests going around but there are also many artists! This is also since hardly anyone entered in the Halloween Contest. So all of you who entered in that but didn't submit...Since it is rather close to Christmas though, it may have to be a Christmas/New Year's art contest. Okay, the due date is December 31st. Get your entries in!
Oh, and remember: it can be any form of art. It doesn't necessarily need to be a drawing.
NOTE: We will patiently until one of the entries can get scanned in. Then a poll will be put up and the winner will be voted on
Rules
1. PG. Think logically
2. Christmas-themed
3. Redwall-themed (preferably)
That's about it!
Sign up
Sign up here if you wish to join! Questions go on the talk page!
MEEEEE!!!! Dewface

Gimmie a hug! I like Hugs! 01:01, December 14, 2010 (UTC)
This sounds fun! Oh oh, my sister is joining TOO!? O-o HiPiza

FLYING COOKIES! 21:05, December 21, 2010 (UTC)
Entries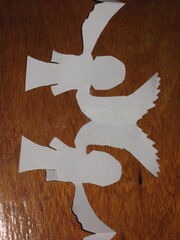 Ad blocker interference detected!
Wikia is a free-to-use site that makes money from advertising. We have a modified experience for viewers using ad blockers

Wikia is not accessible if you've made further modifications. Remove the custom ad blocker rule(s) and the page will load as expected.